System of Care Practice Review (SOCPR)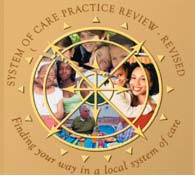 SOCPR-R Training Tutorial is presented in six parts:
Learning Objectives
Review the System of Care philosophy.
Communicate the purpose and objectives of the SOCPR.
Review the SOCPR implementation procedures.
Describe the sections of the SOCPR Protocol.
Increase knowledge of effective interviewing techniques and successful data collection methods.
Practice rating the Summative Questions.
Additional SOCPR Resources
To conduct a System of Care Practice Review at your location, or if you have questions or comments about this training, contact Mario Hernandez, telephone (813) 974-4640.
Faculty & Staff
1Mario Hernandez, PhD
Department Chair & Professor

2
Sharon Hodges, PhD, MBA
Research Associate Professor and Division Director
3
Debra Mowery, PhD
Research Assistant Professor